Undoubtedly the only certainty we have in life is that we know that someday we'll get to that age where all our dreams can come true: Senior !.
When people talk about aging, seems a whole taboo, because basically we are horrified about the idea of ​​growing old and becoming a burden to our children or family, only thinking about the subject and that we will end up in a nursing home or a home managed by nuns when our deterioration start it gives us itchy. The idea is always associated with us going to get in a hole to evict and die, and thus generates a great rejection in our seniors, however, let me tell you. We are wasting an opportunity to rediscover life and denotes a great ignorance on the issue. Today's services for older adults are usually are the antithesis of what it represents a nursing home without demerit the work being done on them.
An example and excellent choice of retirement benefits is the Estancia Dorada center in Panama with his philosophy of life: to serve you as we would like to get served! The center is designed and conceived thinking to the last detail.
The range of services that the industry operates today for seniors from 55 years is very wide and varied. The alternatives are tied to the convenience for residents depending on your needs and individual health care needs. These levels are in order of level of acuity of resident / patient; from apartments for seniors, through independent living communities, assisted living, Alzheimer care centers and memory care, skilled nursing facilities, rehabilitation centers transition to acute care hospitals and acute care, as you can be seen in the graph.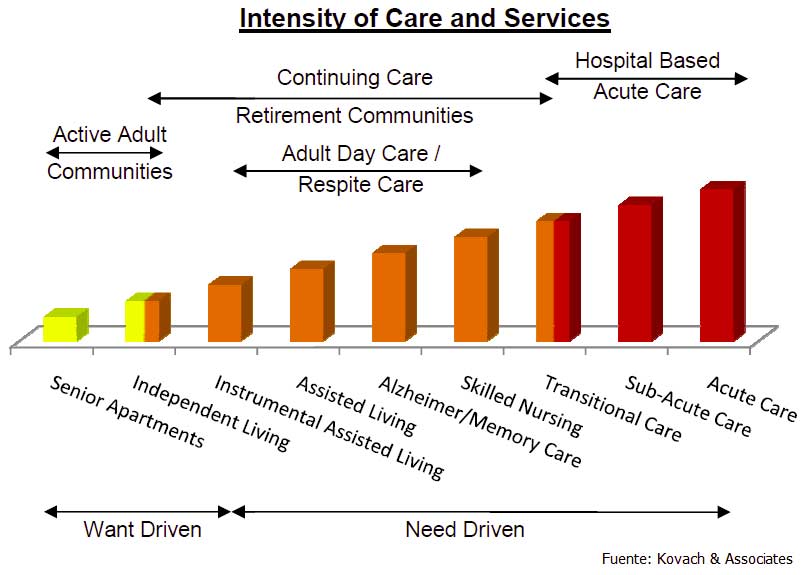 In developed countries like Canada, USA, and in most of Europe these subjects are treated naturally and the idea of ​​using these services is always welcomed by the whole family, because that means is the value proposition and the objective sought which is simply to serve each and every one of the needs of seniors in greater or lesser degree depending on what each individual will require, however, in Latin America we have yet to break many paradigms, usually when our adult normally begin to deteriorate started to gradually transform our house into a hospital, putting a dedicated nurse when you have the resources, special beds, oxygen and others, believing that this will resolve the issue, however, we found that it's not the ideal solution to the problem, because the elderly feel a their a load to their relatives which accelerates deterioration, and on the other hand, relatives also feel that you can not pay all the attention they deserve because they have to work and have other priorities, thus everyone loses. The solution is to understand the supply of such services held by each country and see which one is best suited to our adult.
I hope this appetizer sparks your curiosity about these issues and start a real exchange about them.
Miguel De Yavorsky
Phone: 3937452/53
www.estanciadorada.com
mdeyavorsky@estanciadorada.com
The article in El Venezolano. By Miguel De Yavorsky. 55 Hour.