The real estate sector in Panama, has had an increase compared to the region in the last 10 years. Panama has become a recipient of foreign investment, which together with its growth (6% TODAY) has developed as a hub for luxury real estate market in Panama. And as an evidence, Panama has 12 of the 15 biggest skyscrapers in Latin America.
"The growth of real estate, has helped to consider the country as a hub for luxury real estate market in Panama. In fact, Panama has 12 of the 15 largest skyscrapers in Latin America."
The forecast for real estate market trends for 2016 is that housing will once again be a good investment opportunity due to the stabilization of prices and the low profitability offered by traditional financial products.
These investments will be especially interesting in tourist locations, residential areas and high-end properties such as luxury homes in Panama, whose current prices are very competitive. The investor is increasingly attracted by price stability and low returns on deposits and fixed-term investments.
In Panama, there are sectors or suburbs where people with higher purchasing power realize their real estate investments. Our latest survey (500 people) is a clear example of how the luxury real estate market denotes high interest in some areas of Panama.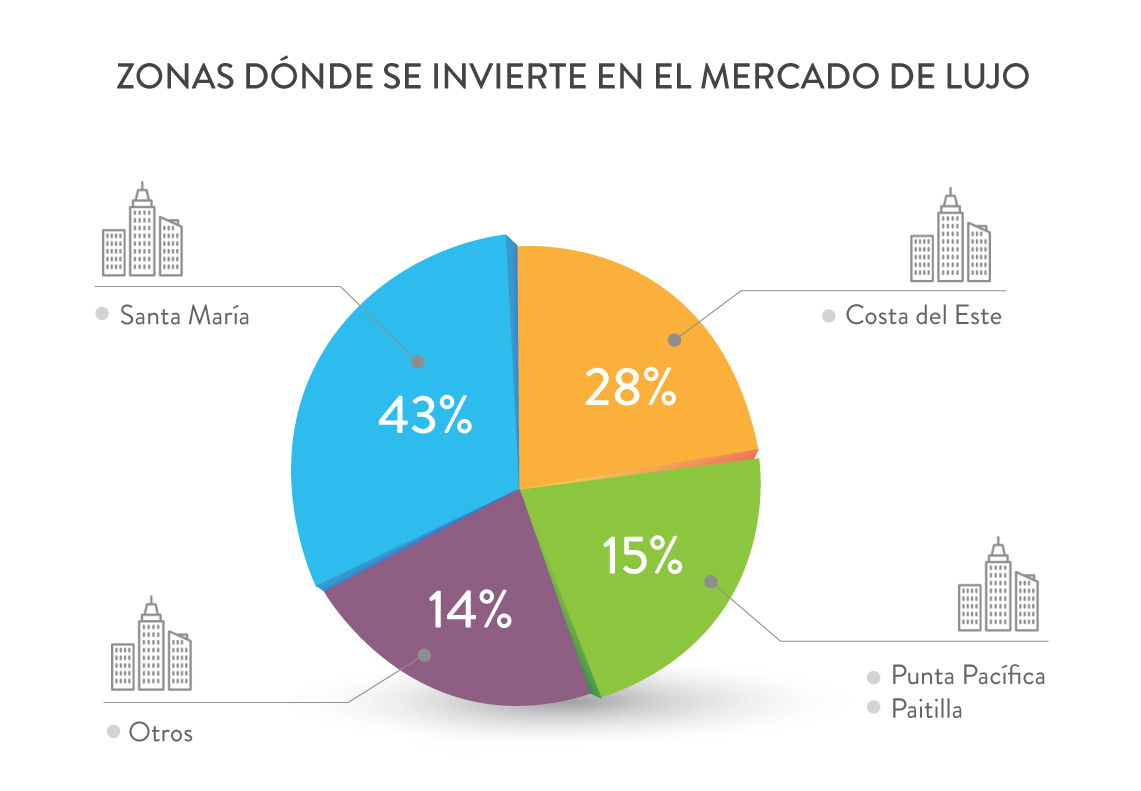 Luxury Real Estate Market Zones
Santa Maria is the most luxurious and prestigious area in Panama, since it has the most expensive projects in the country. The builders base their projects on luxuries.
It has more than 20 residential models and houses of the highest level to choose from, offers designs that adapt to different lifestyles. It has an 18-hole golf course designed by Nicklaus Design, which is among the best high-ranking rankings in Latin America.
The people with greater purchasing power, migrated from Costa del Este to Santa Maria because it is the area with luxury residential of the highest level of the country. People can live and work, because in Santa Maria, there is also the industrial zone "Business District", which has several business projects with the most prestigious multinational companies.
Real estate projects in Santa María are developed by a team of local and foreign professionals who share a vision of development, always complying with the highest standards in soil improvements, architectural designs, infrastructure, and everything that includes a mega project of this type.
Projects like Greenview and Greengarden are some of them.
Find out more about the Greenview project in Santa Maria Panama and its financing plan.
Costa del Este is the first planned city where streets, parks and schools were strategically designed and designed by those who choose to build in this area, since many of the people who lived in the city migrated to this planned city.
Costa del Este started around $2,000 per m2 and increased transactions compared to past years, since it is an area of ​​high capital gains and most of the large multinationals are established in this sector, in addition it is considered as the first planned city of Latin America. Now, it offers a wide range of luxurious apartments with incredible sea views, where the square meter is sold around $3,000 USD and for rent at $16 USD.
Everything about luxury amenities is in the Costa del Este sector. Amenities include shopping centers, supermarkets, shops, restaurants, banks, schools, gyms, clinics and the entire industrial area with multinational corporations.
Undoubtedly, living in a growing area like Panama is a privilege, because it guarantees that such properties will be constantly revalued, hardly lose value, will create more and more commercial establishments in the surroundings that will allow you to have everything you need very close and You will be surrounded by a middle-upper and upper class, with which you will surely keep good friends.
Punta Pacifica is considered the first luxury zone of Panama. It is recognized for the purchase of real estate by the Jewish community. It is characterized by its great real estate development and is one of the most exclusive areas of the city and therefore of the Republic of Panama, thanks to its proximity to the sea, large commercial centers, excellent schools located in the vicinity, supermarkets , Hundreds of stores and even one of the most advanced hospitals in the country, the only one in Central America in collaboration with Johns Hopkins Medicine International.
On average, the square meter in Punta Pacifica is currently estimated at about $2,700 USD and for rent $16 USD.
Having positioned itself as one of the most prestigious areas of San Francisco and the entire country, its prices can be high in most properties. This is offset by one of the highest security rates in the country, surrounded by important businesses and financial institutions and in one of the most pleasant environments.
Once we knew the areas with the most interest, we asked our users (500 people) how much they would be willing to invest in the luxury real estate market.
These were the results reflected:
Luxury real estate is the most expensive, but also, according to experts, is a stable market, with a select and careful demand, especially by foreign buyers and investors.
Of the total population, 58% of people who are willing to invest in a luxury property are willing to invest from $ 800,000 to $ 900,000 USD, while 27% are interested and willing to invest up to $1,000,000 USD, and the 15% more than a million.
These are many of the reasons why people want to continue investing in the luxury real estate market in Panama.
Panama is considered one of the best places to live in Latin America, mainly due to:
Privileged geographic position
Modern Investment Laws
Stable financial growth and competitive banking system
Qualified and available human resource
Modern medical and health services
Country free of natural disasters
Great connectivity to facilitate the movement of goods
Dollar-based economy
International Living has chosen Panama six consecutive times as the best country to live and retire. AARP, Fortune, Cone Nast, The Economist, among others, have published very positive articles about Panama.
The first Metro line in Central America was built in Panama.
The opportunities for real estate investments are in Panama. We invite you to take a look at the real estate portals and look for the property that best suits your needs and your pocket.
Find your property for sale or rent in www.gogetit.com.pa