The second edition of the Miami New Construction Show kicks off next Thursday, October 22 at the Miami Beach Convention Center. The four-day show is expected to draw more than 25,000 real estate domestic and international buyers, investors, real estate agents and other industry professionals.
The show will feature more than 100 new luxury development projects from South Florida and the international market, as well as 150 real estate and construction related service providers. They include architects, interior designers, property managers, tax advisers, real estate Lawyers, developers, general contractors, inspectors, title companies, immigration lawyers, and various home decorating and construction specialists.
More than 80 real estate brokerages are expected to be represented.
Panamá in the  Miami New Construction Show
The Miami New Construction Show will count with the presence of Panama with a stand dedicated to real estate projects in the country. It will feature local real estate developers who will teach the interested public why the benefits of invest in Panama
Between the promoters of Panama´s real estate who attend the show are : The Group, Santa María Panama Project, Arval, Resende and Playa Blanca Project.

Some of the benefits and for which Panama stands out in the region as a country to invest are :
Price per square meter 20% to 30% cheaper than USA.
Fastest growing economy in Latin America with 6% and the Dollar as current currency
#1 Country to retirement with a cheaper cost than USA
Banking facilities and up to 75% financing
The best investment consultants with over 35 35 years experience in Florida and Panama.
Exhibits won't be the only feature of the show.A high-powered roster of South Florida real estate, development, government, legal and marketplace professionals will highlight VIP panels and educational breakout sessions for buyers and investors who attend the second annual Miami New Construction Show.
Up to 80 educational sessions and VIP panels are scheduled for the event, including "Major Economic and Infrastructure Improvements in South Florida," "Developer's Vision About South Florida's Future," "Designing a City That Works for the Next Generation," "Navigating South Florida's Construction Environment: Politics, Economics and Challenges," and "Building in South Florida: Trends in Construction."
A market review on Thursday, October 22 will be conducted in English and Spanish.
Tickets are available to the show can be purchased for one-day visits or for the entire four-day show.
One-day show tickets go for $55 plus a $4 fee. They are valid for any day during the exhibition and include access to the main stage programs, new construction project and service provider presentations.
Four-day show passes are available at the door for $170. There is an early bird discount for $95 plus a $6 fee. These passes are also good for the main stage programs, new construction projects and service provider presentations.
A four-day show and conference pass can be obtained at the door for $425. An early bird price of $255 plus a $15 fee is available. The pass is valid for the four-day exhibition including the main stage presentations, new construction project and service provider presentations, conference, South Florida Market Review 2015 and Buyer/Investor Education.
Miami New Construction Show Confirms Vip Panelist for Breakout Education Sessions
 "Building on the success of the panel discussions at last year's inaugural show, we've expanded our program this year to include VIP panel presentations and educational sessions covering a wide variety of subjects vital to buyers, investors and the real estate community at large," said Anita Funtek, founder and CEO of the Miami New Construction Show.
"This year's agenda of VIP panels and breakout sessions will be dedicated to investor education, buyer education and realtor education, allowing visitors a more intimate setting to interact with developers, industry service providers and other professionals exploring emerging marketplace trends in South Florida," she added.
Scheduled to take place between October 22 and 25 at the Miami Beach Convention Center, this year's four-day event is expected to draw up to 25,000 visitors from around Florida, the U.S. and foreign countries in Latin America, Europe and Asia.
Alberto Alvarez is an international speaker of Real Estate also specialist on leads generation will participate in the Miami New Construction Show for the first time.
¿ Who is Alberto Alvarez ?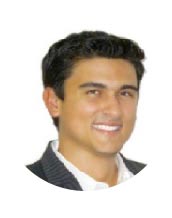 After working nearly a decade in marketing at Procter & Gamble , Alberto envisions changing the power of the digital age and decides to focus on developing the world of entrepreneurship in Latin America . In 2012 he founded his first start- up , gogetit.com.pa , changing the way people interact with real estate in the region.
GoGetit [ gogetit.com.pa ] , is a startup that has changed the way of looking at real estate in Latin America. Gogetit has over 250k monthly visit and is known as the tripavisor Real Estate . He has chosen us as one of the best startup launched in Latin America by Columbia University , in addition to having achieved important awards in entrepreneurship such as: People 's Choice Award in Silicon Valley Start up Icon and awards in Spain and the Netherlands . As a result of Gogetit , founded in 2013 gogetit Leads, a digital marketing agency focused on Real Estate for the whole Latin America . Working with all kinds of brokers and large construction companies in order to increase their conversion rates leading to higher sales. Alberto served as VP Marketing Agora Techonologies in Silicon Valley , a company funded by Guy Kawasaki & Nolan Bushnell and developed the overall concept of Startup Icon . Today , Alberto is the CEO of LatamDigitalMarketing.com , GoGetit.com.pa and its subsidiaries in Latin America .
Confirmed speakers for the VIP panels and sessions thus far include:
–David Martin, Founder & President, Terra Group
–Dan Kodsi, Developer, Paramount
–Brian Bandell, South Florida Business Journal
-Jerry Libbin, President, Miami Beach Chamber of Commerce.
-Bill Johnson, Florida Secretary of Commerce/ President & CEO, Enterprise Florida.
-Tomas Regalado, Mayor, City of Miami
Source :  Miami New Construction Show