An office, is not always the best decorated space and at times, may be unattractive. Although certain standards such as adequate lighting, chairs and tables adjustable to each worker and a space for recreation, among other things, the decoration of an office is characterized by being simple and practical, with some exceptions.
"The most creative offices are those that are characterized by breaking the traditional decoration scheme and have turned their offices into real spaces of inspiration for each of their collaborators."
In our article today, we tell you what are some of those offices considered the most creative offices in the world, for those special touches that make them unique in their style.
The most creative offices – Gogetit Highlights
Workspaces have changed and evolved over time. These are becoming more creative and stimulating, further away from the typical serious and boring offices that kill the creativity of their workers.
There are studies that show that when we spend a lot of time always having the same visual and auditory elements around us, our creativity tends to retract.
For companies that require creative work, having a unique office and totally different from other offices, is a competitive advantage when it comes to getting valuable employees.
An office is that space where we spend much of our day to day. It is that space that becomes as your second home. That is why it is of great importance to have a suitable and functional decoration, regardless of what your work, causes you to go and be in it.
Many times, we are not able to realize how true this is that our office should make us feel at home. And it's absolutely true: A person will not do the same or have the same job results in an office where they feel at ease, than in a small and dimly lit office.
Tiny cubicles, gray and dimly lit offices, as well as sad dining halls that are unattractive to visitors and totally alienating to the staff have been left behind. Nowadays, open spaces, luminosity and their integration into natural spaces are imposed as factors for the development of creativity and the exchange of opinions of workers. The relationship between workspace, performance and creativity seems to be confirmed by the success of these companies.
It can be observed that the big companies related to the world of internet and social networks, have ample spaces and many areas of recreation, fomenting the "free time" to increase the production and the creativity of its employees.
Here are some of the most creative offices in the world:
1.- Google
Google's offices have a secret: The workspace is created for each employee. Google is characterized by creating the perfect working environment, where you can mix business with pleasure. Each worker is different, and Google has created spaces for all tastes: Gym, aquariums, library or games room, anything you need to increase your creativity and recharge your batteries. In fact, there is a rule in which no one should be more than 100 meters of food, so you will find kitchens and cafeterias where each employee feeds 3 times a day for free.
2.- Facebook
Facebook's headquarters, located in California, have a wealth of amenities, among which we can find basketball courts, cafeteria, ping pong tables and touch screens throughout the campus to help employees find each other and book Conference rooms. Plus, it has plenty of places where employees can escape and get some peace and quiet.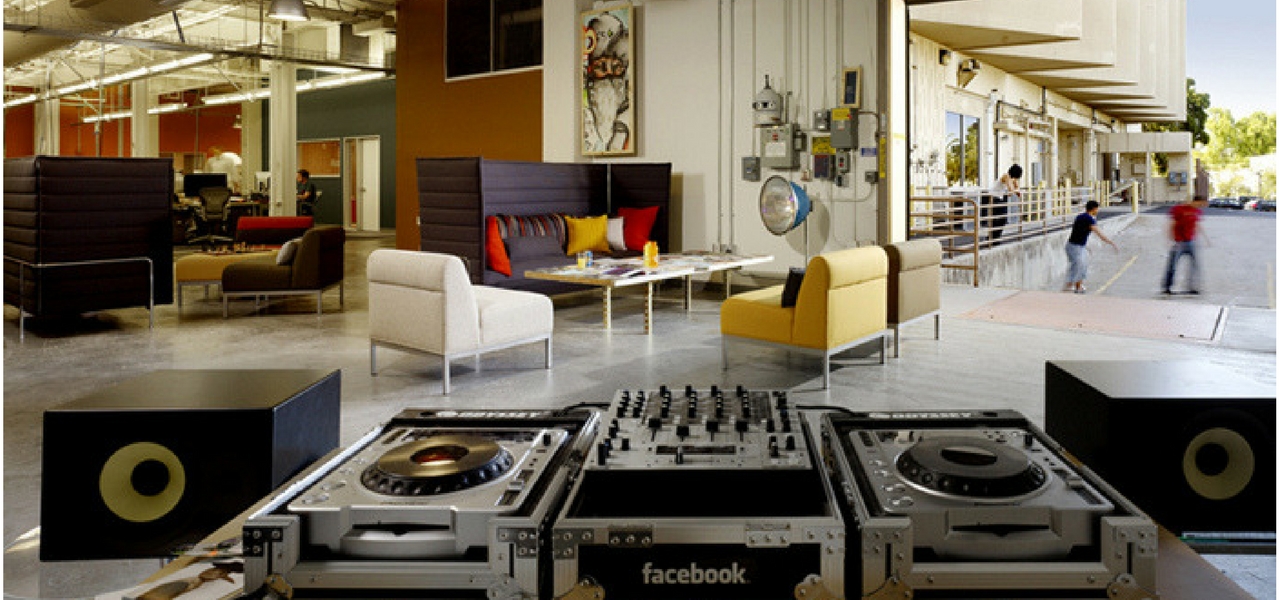 3.- Vodafone
Called Porto Vodafone Building, the project has a concrete shell with angled windows. The architects tried to create a sense of movement and irregularity. The building has eight floors, three of which are underground. The ground floor consists of a shop, cafeteria and entrance hall. The offices are located on the remaining floors above ground, with parking and training facilities on the underground floors.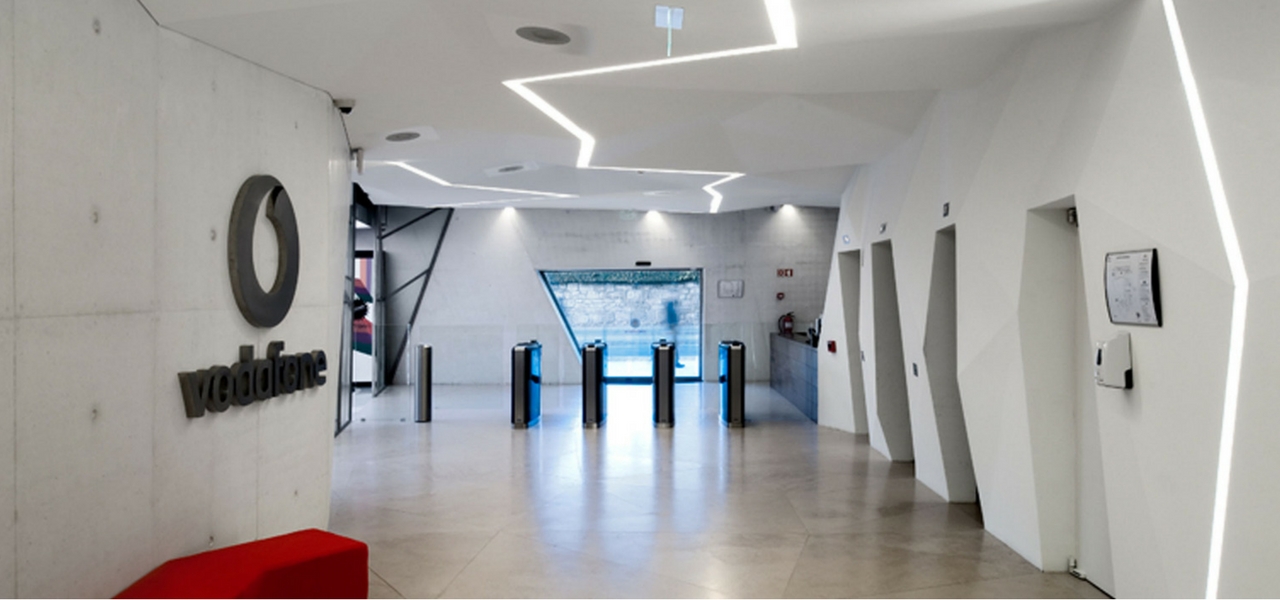 4.- Disney
The Walt Disney Company is the second largest media and entertainment company in the world. Corporate offices are concentrated primarily at The Walt Disney Studios in Burbank, California. They have a themed interior design, constantly making reference to the different themes of Disney. Also, they have conference rooms with The Avengers theme, because Disney buyed Marvel recently.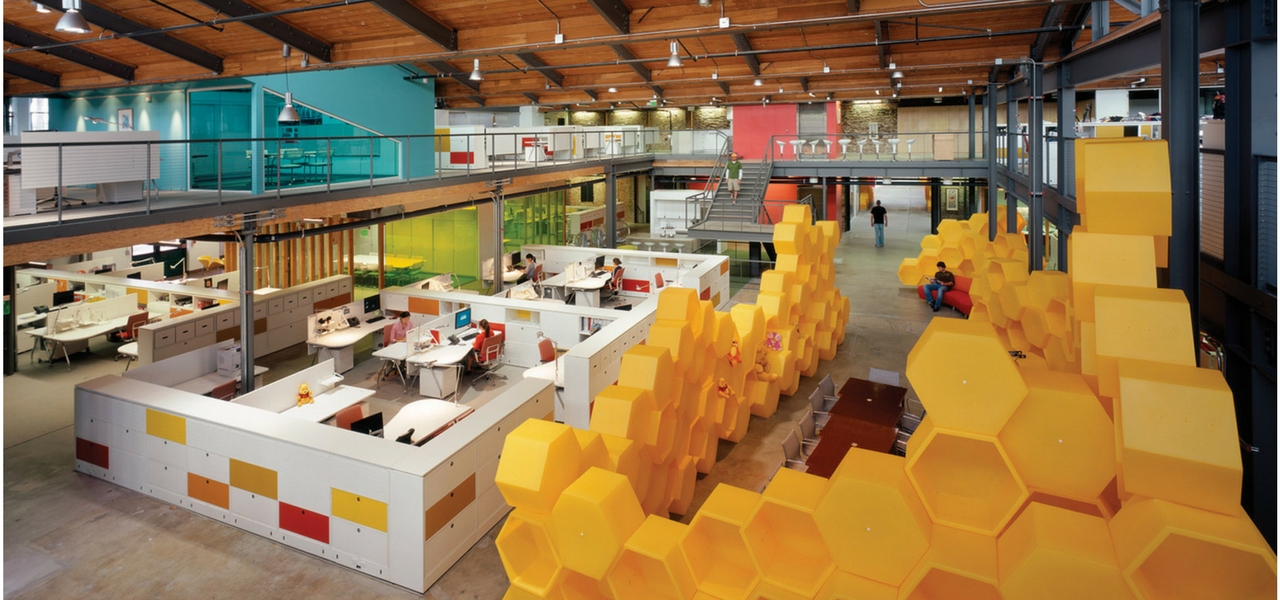 5.- Pixar
The philosophy of this company, as the managers themselves comment, is "hire employees who are better than ourselves." Therefore, the workplace is distinctive and unconventional, both in facilities and services as in work habits. At the entrance, you get extensive green areas, gardens and a square where there is a huge lamp with its ball, you will find the Lobby with reception, cafeteria and space adorned with characters and conceptual art boxes based on the stories that have Created Pixar for his films, from Toy Story to Up. They have services like yoga classes, swimming, basketball, programs and classes of origami, bookshop, auditorium and cinemas among many similar ones.
Some ideas for having a creative office:
Give a personal touch to your work area: If it is only a desk, or a cubicle, decorate it with those elements that characterize you.
If you can, paint some wall of your favorite color, or propose to do it in some space of common use, such as the cafeteria or the kitchen for example.
Don't overload your desk with unnecessary things. If you want to have many ornaments and objects around you, you can do so as long as it does not interfere with your workspace.
If you are looking for more ideas for decoration, we invite you to enter our section of Home Decor, or you can also look for options in our Instagram account (@gogetitpa).