The luxury market Real Estate in Panama, has gained momentum in recent years. Areas in this market are: Costa del Este, Punta Pacifica, Altos del Golf, Avenida Balboa and Paitilla. In this second part of the article published by Gogetit News last week, we will take a look at some of the buildings in these luxurious areas, their size and approximate closing price.
Gogetit Highlights
* Increased productivity resulting from investments in infrastructure over the past five years, should lead to strong growth in Panama in general, with 2,014 GDP. It is expected to be slightly less than 7%.
* There is a low rate of unemployment in the country and increased volume of tourism with the support of government-backed incentives to attract business meetings and conventions, in addition to renewing the reinvestment of the new president in the country's education and agricultural sectors should maintain strong economic gains and present a compelling case for similar increases in the real estate market.
* The completion of the Panama Canal by the end of 2015, will create a revenue increase, and with it increased opportunity to improve infrastructure and quality of life for residents of Panama improved.
Last week, Gogetit News published an article about the luxury real estate market in Panama (see article here). Of all the areas that are in Panama City, only five are considered "luxury": Costa del Este, Punta Pacifica, Paitilla, Avenida Balboa and Altos del Golf.
The moderate absorption of both new and existing inventory, plus a timeframe of 3-4 in the delivery of new supply could increase pricing at the upper end of the housing market between 5-10% in the next two years.
Increase business development, namely, hotels, office parks and commercial spaces in areas such as Punta Pacifica, Costa del Este, and Avenida Balboa, will further boost demand and a greater sense of "livability", since these districts, none which has over 10 years of age, and allow you to become one of the most complete offers to live, work, eat, shop and play.
An example of some of the latest high-end closings shown: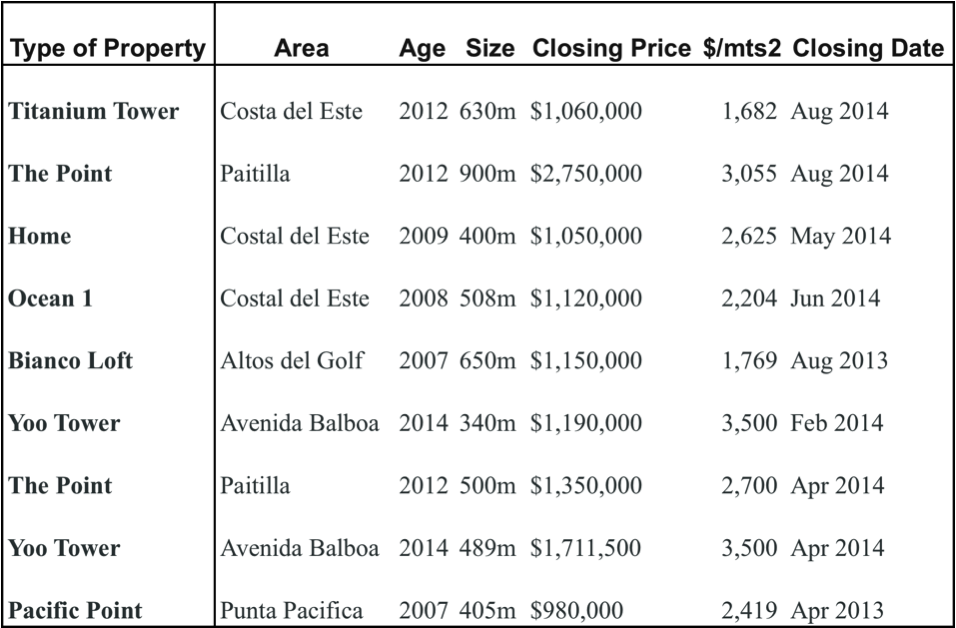 Interested in Panama Real Estate? We invite you to visit www.gogetit.com.pa, the fastest, most reliable and social way to find your property in Panama.