In the last decade, Panama became a country of buildings and over the years, people have migrated to live in houses to live in buildings. Some people think it is because is more profitable to others by following trends in big cities like New York or Singapore.
The reality is that there are more than 300 buildings over 100 meters high. Currently, the leader country in high buildings is Panama, becoming the "city of skyscrapers" of Latin America.
Panama buildings – The highests in Latin America
Panama has 6 of the 10 tallest buildings in Latin America, in different categories.
1. The Trump Ocean Club International Hotel and Tower is the tallest building in the region and is in the top of the skyscrapers of Panama because it has 284 meters high. This building is located in the area of ​​Punta Pacifica.
2. Vitri Tower is the tallest residential building in the country, placing it at #2 of the highest regional level. It has 280 meters high, and was built by the renowned firm of architects Pinzon Lozano and Associates. This building is in the area of ​​Costa del Este.
3. Bicsa Financial Tower is the tallest commercial building, ranking at #3 in the country and at the regional level within the tallest buildings. Is 267 meters high and was also built by the firm Pinzon Lozano. This one is located on Avenida Balboa.
Due to the high growth of Panama City, there is a wide range of real estate, including apartments and houses.
Among the main residential areas of the city are the following: Marbella, Punta Paitilla, Punta Pacifica, Bella Vista, Obarrio, San Francisco, Altos del Golf, Coco del Mar and Costa del Este. On the outskirts of Panama, there are comfortable residential areas as Albrook, Clayton, and Las Cumbres.
There is no doubt that the buildings give the city a new look, complementing its skyline.  Every building in the city, reflects its own personality. That's why we created the search for social characteristics (easygetit), where you can search your property according to your lifestyle.
Panama Buildings – What people seek in a building
In Gogetit, we did some market research, and invited our users to participate in the survey "What are you looking for in a building when moving?" It took more than 500 people participated and the results surprised us, because of course it is very important for us to know what people want, want and need when deciding to move. Here are the results of the survey:
What do people prefer before moving to a building in Panama?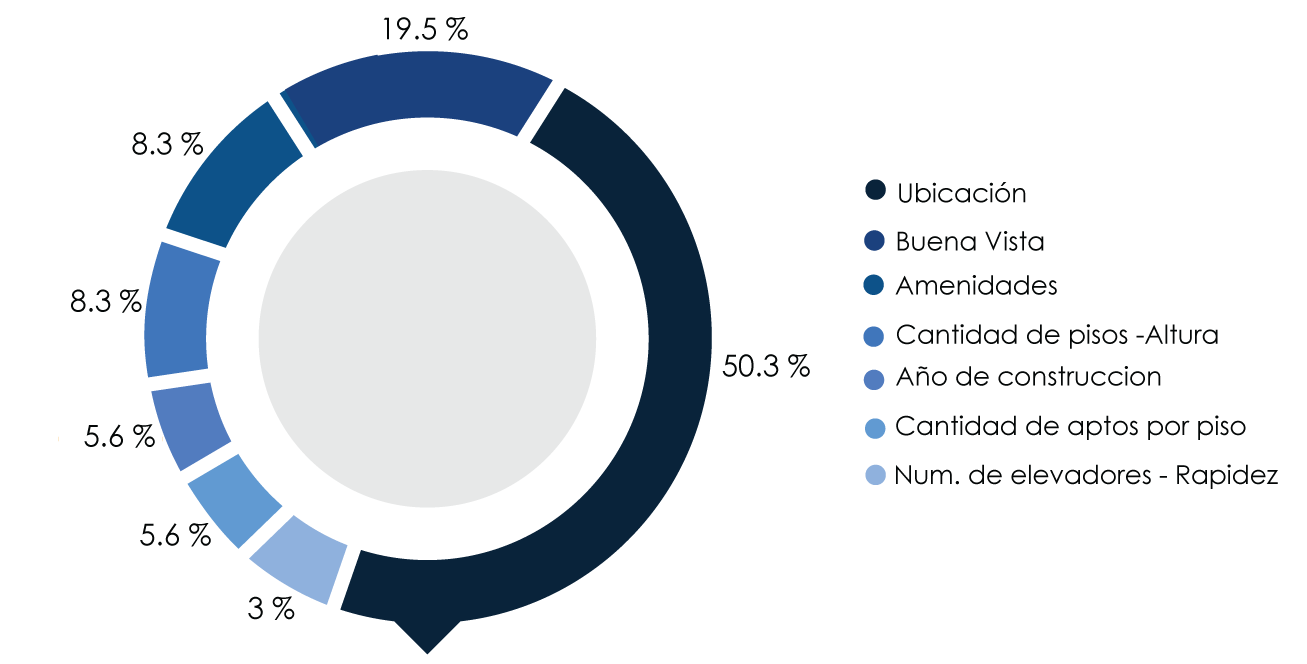 50% prefer Panama buildings being well located, have easy access to supermarkets, malls, restaurants, etc. It is something very important here in Panama.
19.5% prefer a building with a nice view, either sea, city or just have a nice view. Here in Panama, views are unrivaled and beautiful at all times of the day.
8.3% is guided by the age of the building in Panama, because every day there are new projects as well as real estate investment and construction. Also, investing in Panama provides great opportunities for tax incentives as they are economic policy instruments seeking main objective encourage investment.
Another 8.3% of participants, choose a building for their social areas. There are buildings that invest more in social areas because they consider it an essential amenity that gives the owner exclusive and that makes a building very complete. What about you? What is the most attracting for you in a social area? Enter in our new survey HERE!
5.6% of people prefer the number of floors, and how higher is the building, also is a feature that many users want to say that Panama is the real city of skyscrapers throughout Latin America is obvious to anyone visiting the city, itself as the number of apartments per floor is also a factor why people prefer one building to another.
We all like to come home and see the elevator on the ground floor or a few floors from where we are, not take long to raise or lower to not feel that we will stay locked up inside the elevator, which is why the 2.8% participants take into account when moving to a building.
If you are interested in searching buildings by its personality or features, we recommend you easygetit finder, the new search system of Gogetit.