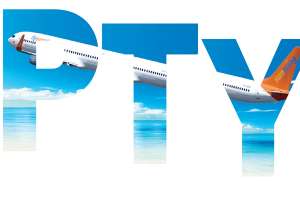 The renowned Canadian airline Sunwing Airlines, announced new direct flights to Playa Blanca in Panama. It will be from August 1 to begin operating these flights, which allow passengers to reach the area of highly visited beaches in the country.
Below you will find the Gogetit Highlights that you should know about this story:
* Scarlett Martínez International Airport, will begin receiving direct flights from the airline Sunwing Airlines from Canada.
* Flights will depart from Toronto and Montreal (later included in November), the city of Quebec in December, and Bagotville in February 2015.
* These direct flights will allow the arrival of many tourists to the area of ​​Playa Blanca, known for its beautiful beaches and the wide range of hotels that can be obtained there.
Now passengers from Toronto will not have excuses to go to Playa Blanca, as the Canadian airline Sunwing Airlines announced direct flights between the two destinations starting Friday August 1, 2014.
According to information published by the website Panama Guide, Sunwing Airlines offer direct flights all year round from Toronto Airport to Playa Blanca (Scarlett Martínez International Airport) in Panama. This winter, Sunwing will also introduce flights to Playa Blanca Airport several gateways in 2014 Quebec, including Montreal from November, the city of Quebec from December, and Bagotville from February 2015.
"The region of Playa Blanca is a popular destination for travelers and these direct Sunwing flights, will dramatically improve the holiday experience for our passengers," said Andrew Dawson, COO of Sunwing Travel Group. Dawson says that "no more than two hours transfers from Tocumen International Airport, located in Panama City. Now most of the resorts are just a ten minute drive from the new airport, a game-changing choices to make holiday destination for our passengers."
Sunwing Vacations is the only Canadian company have confirmed to Playa Blanca flights Airport and to celebrate, Sunwing landed its first flight on April 4, 2014 as part of the opening ceremony of the airport (See news here)
New flights from Toronto to Playa Blanca Airport, will operate weekly from August 1, 2014, while flights from Montreal will begin on November 14, 2014. Prices of flights packages (including some stay in the Bijao Sheraton Resort) ranging from approximately U.S.$ 800. Departing from Montreal, can be around U.S.$ 1,300.
All packages 'Sunwing Vacations' service awards include Sunwing Airlines, which have a glass of champagne, hot towel service, Hot & Fresh Bistro meals served with a selection of wine at lunch and dinner and free entertainment flight, including first run movies.
Definitely this is the perfect opportunity for all those tourists from Canada to visit and enjoy the beautiful beaches of Panama.
Interested in Panama beach Condos? We invite you to visit Costa Blanca Villas. An exclusive Beach & Golf community located at 5 min from the new Playa Blanca International Airport